University Libraries offices are located within the Alkek Library on the San Marcos campus:
Parking
Weekdays
Limited free parking is available outside of the Alkek Garage located at the end of Talbot Street (see maps below). There are six visitor spots located outside the guard booth across from the entrance to Jones Dining Hall. [Note: Visitor spots are for campus visitors only. Students, faculty, and staff will be ticketed if they park in one of these spots.]
Weekends
On weekends (between 6 p.m. Friday and 7 p.m. Sunday), the Alkek Garage is open to library visitors except for spaces where posted signs indicate otherwise. If the garage is full, additional parking is available in Woods Garage (see map).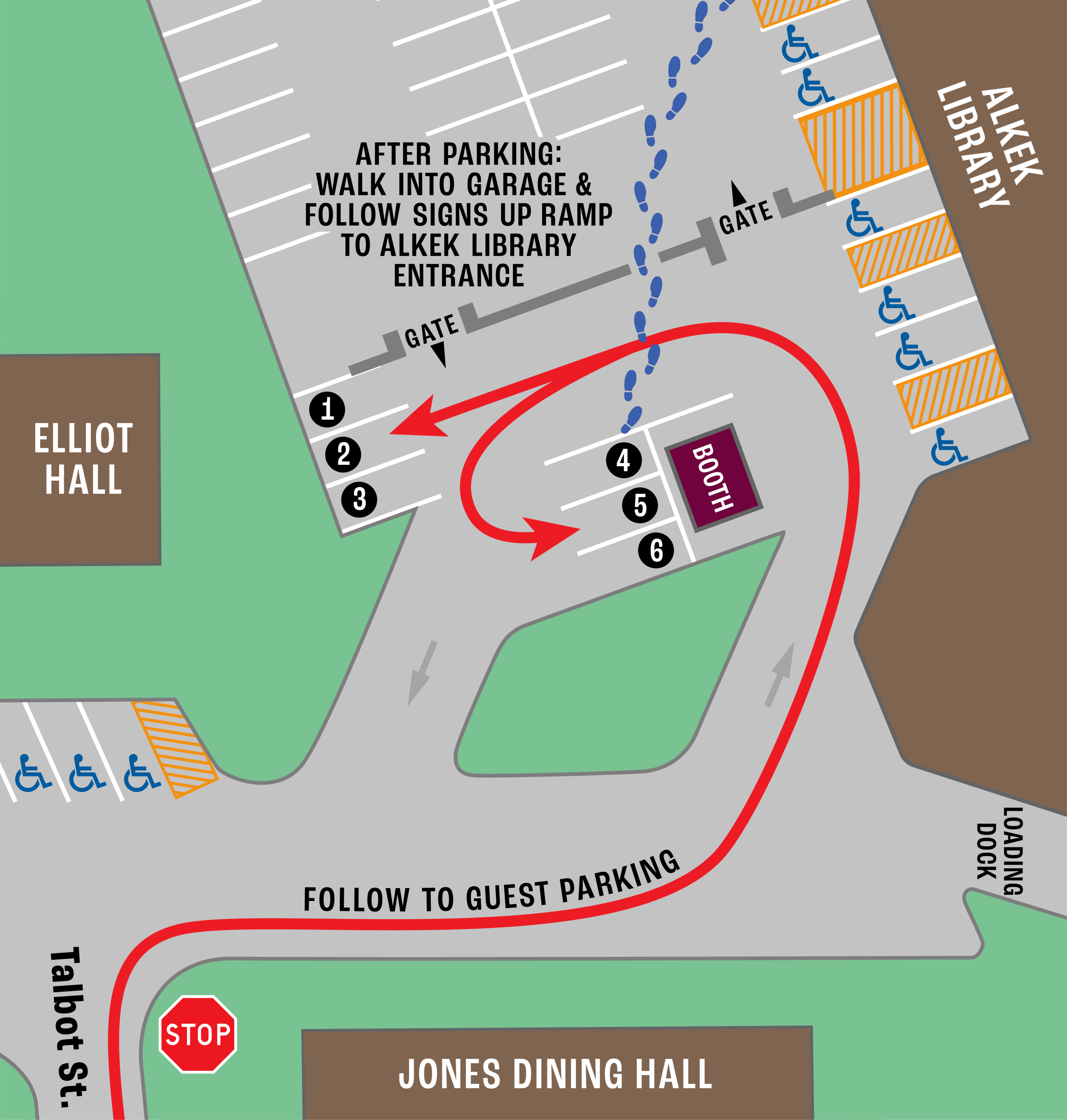 Use Google Maps to get to the Alkek Garage.
As you approach the garage by car, see Parking Map and follow steps 8-10 below.
Turn By Turn Directions
Take I-35 and take Exit 206 (Aquarena Springs / TX-82 Loop).
Turn west on Aquarena Springs and follow for about one mile. You'll pass the stadium on your left.
At the light at Sessom Dr., continue on Aquarena Springs, which curves left and becomes University Dr.
Follow the road as it curves to the right and continue on University Dr.
At the light for N. Guadalupe St., turn right.
At three-way stop, turn left onto Woods St.
Take the first right onto Talbot St. and proceed one block to the stop sign.
At the stop sign, turn right and proceed approximately 100 ft.
Turn left to approach Alkek Garage and keep right of the guard booth.
Do not enter the garage. As you approach the entrance gate, take a sharp left and look for parking spots marked "Alkek and Wittliff Guest Only." You may park in any of these 6 marked spots.
---
Additional Information
---
Accessibility
Directions to other library facilities