Checkout Services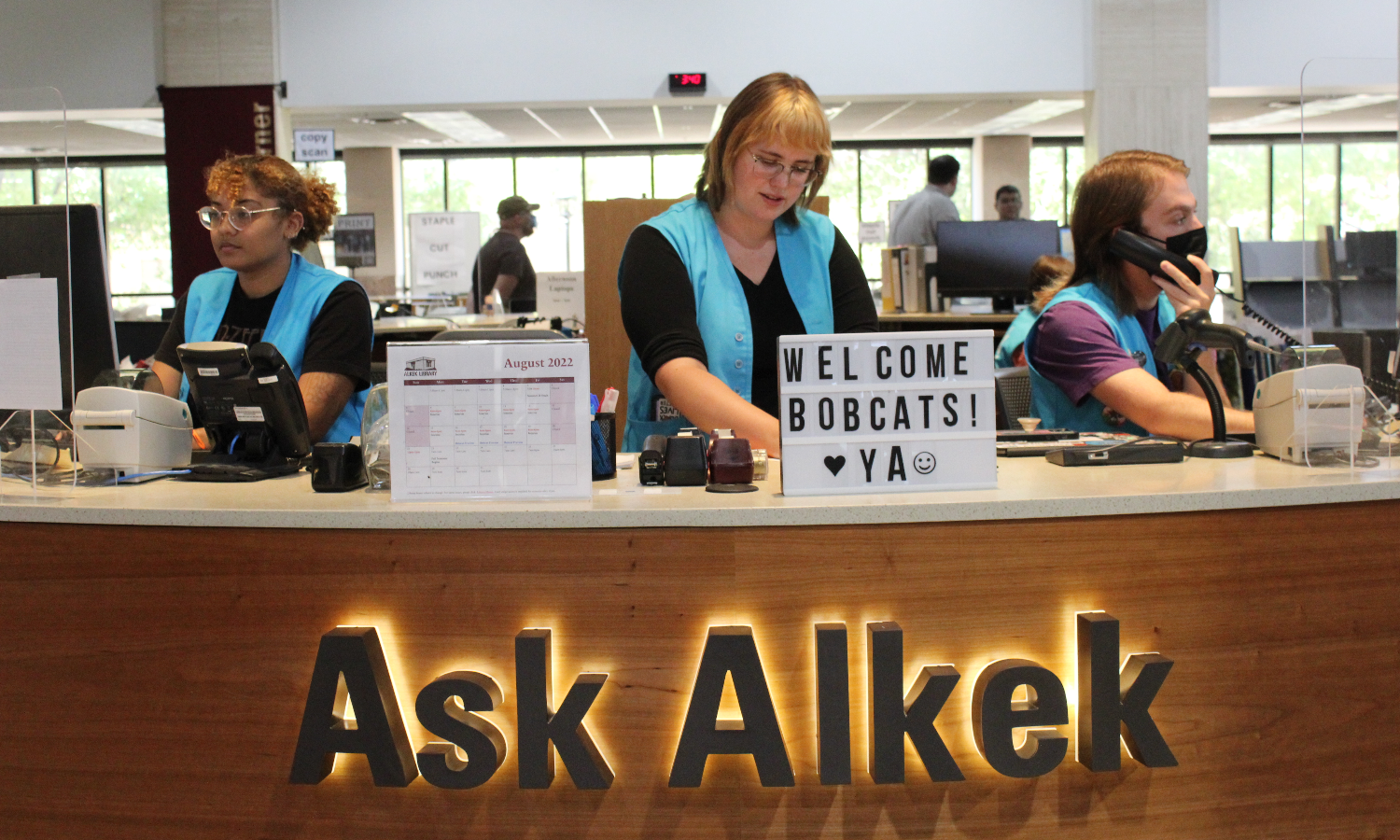 You can borrow or renew library materials, pick up interlibrary loan items, or access items on reserve from any of our library locations..
Most items in the library catalog that are housed at any university library can be requested to be delivered to the library closest to you for pickup. These items have a blue Request/Hold button at the top right side of the catalog entry. When you click on that button, you will be prompted to supply your NetID/password. Once you hit submit from that screen, you will land on a Request Verification page that will prompt you to select a pickup location.
Return your checked out items to the location most convenient to you. Exception: Reserve items must be returned to the reserve locations they were checked out from.
Locations:
Renew Materials
Materials can be renewed online, in person at the library or by phone, 512-245-3681 (Alkek) / 512-716-4700 (RRC) / 512-245-3376 (Music Library).
Check Your Account
Log into MyAccount to view items checked out and their due dates, requested items, outstanding fines, and other library charges.
Borrowing Policy
Find out which materials can be checked out & for how long. Information for undergraduate students, graduate students, faculty, and visitors.
Non-University Library Users and Alumni
See "Borrowing Policy for Visitors/Non-University Borrowers" section under Borrowing Policy. Specifies which materials may be checked out & for how long.
Requesting Materials / Delivery
Locate here the request forms the University Libraries uses for requesting materials (requesting items in the catalog, recommending a purchase, requesting rush processing, distance student material request, FADS, GrADS article delivery, etc.)
Request a Proxy
As a convenience to faculty members, proxy borrowers (such as student employees, administrative assistants, other departmental staff) may be authorized to check out materials. Please initiate this process by completing this form or at the Checkout Desk. Proxy information must be updated each semester.
Interlibrary Loan
Borrow copies of items not owned by the Library, (512) 245-4893.
TexShare Cards / Use of Area Libraries
Report an Item Missing
When a library item is displaying as "available" in the catalog but is not found on the shelf, use this form to report the item missing. Library staff will search for it, and place a hold for you when/if found.
Library Holds
Overdue books or unpaid fines prevent you from registering, and from receiving transcripts or grades.
Lost and Found
Alkek Library: 512.245.2686
RRC Library: 512.716.4700